October 4, 2021 | JaM Cellars
Hallo-Wine at JaM Cellars, Napa: More treats than tricks!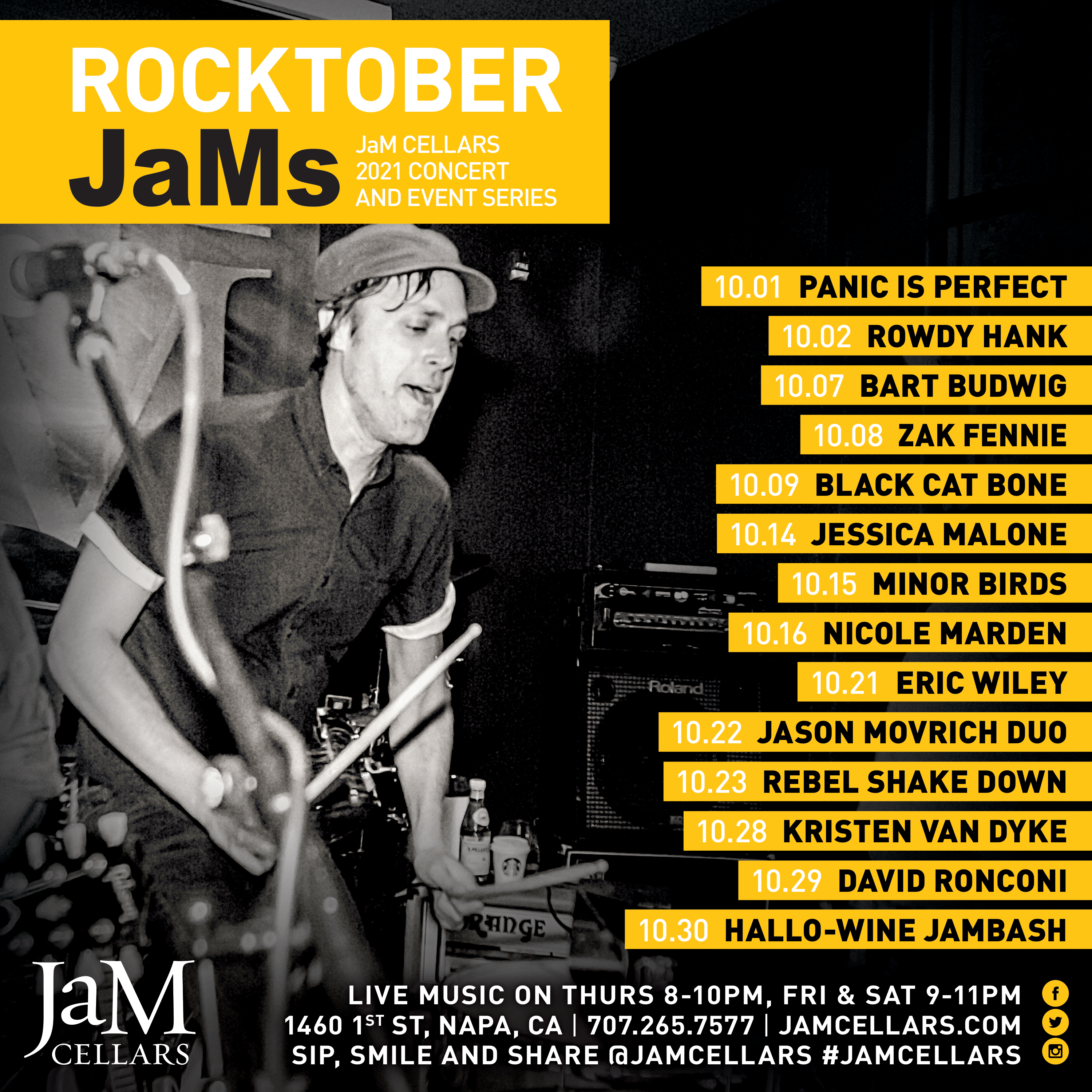 October in Napa Valley is a very special time of the year….
Harvest is coming to a close, the vineyards are changing colors, and the weather is cooling down a little bit. Break out your slippers, unscrew the JaM Cab, and settle in with our Sweater Weather playlist on Spotify. FALL IS HERE! 🙌
Get in the season's spirit and JaM along with us at our wine and music studio in downtown Napa, all month long!
Rocktober 🎸
Grab your flannel, pick up your besties, and head down to JaM Cellars wine and music studio downtown Napa for some rad JaMSessions this Rocktober! We'll be featuring some Butter than ever musical guests like---Rebel Shakedown, Kristen Van Dyke, and David Ronconi.
Craving a treat? Our JaMBassadors will have your fav JaM Cellars California and Napa Valley wines to cozy up with! NEW to the lineup is the 2018 JaM Cellars Pinot Noir, Napa Valley—black cherry, roses and spice…um, yes please!! There is always something new, fun, and sippable to look forward to.
Check out our upcoming events to plan your trip!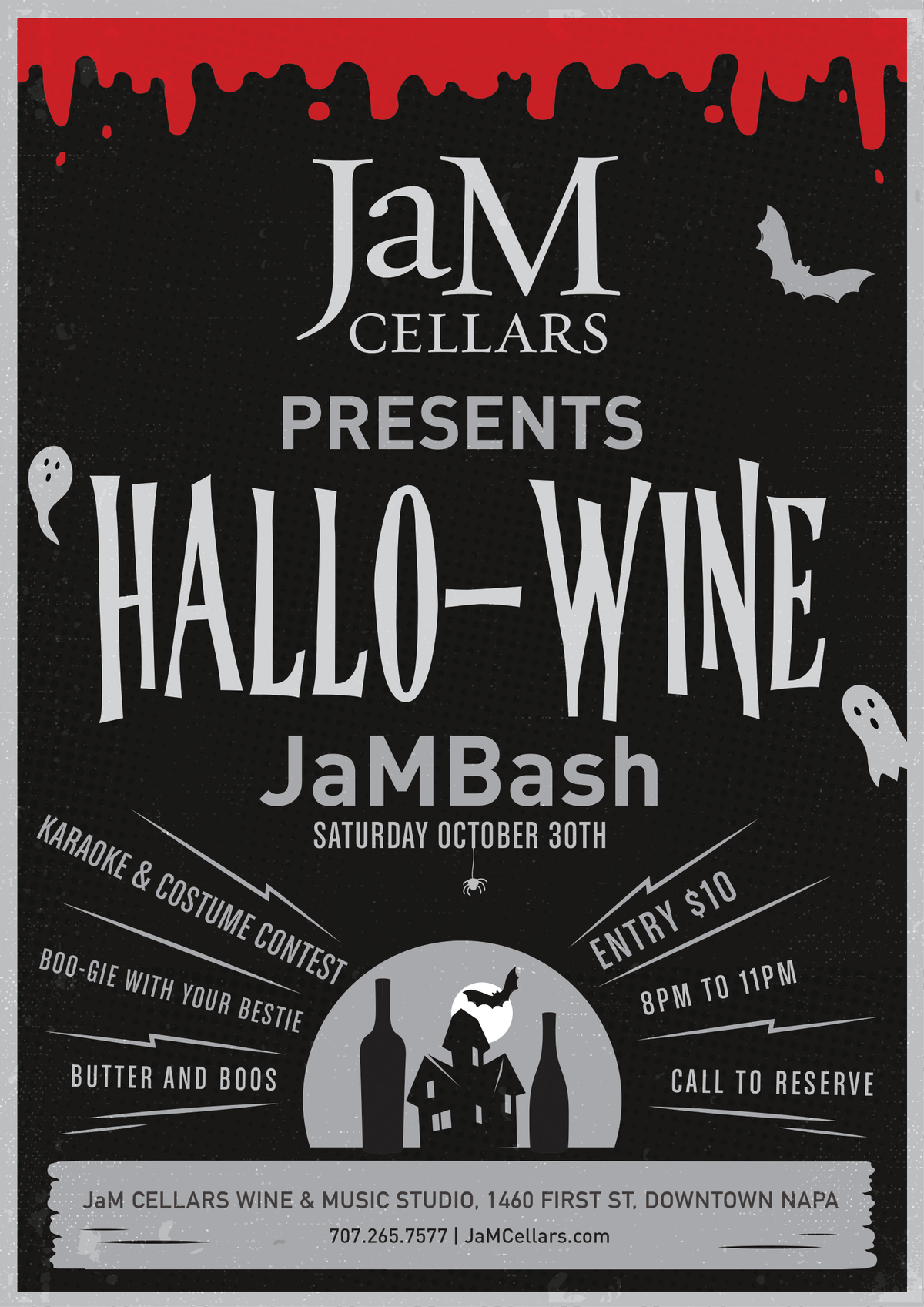 Hallo-Wine Karaoke JaMBash & Costume Contest 🎤
Are you a wannabe rock star? How about a dedicated shower-singer? This event is for you! Join us this Hallo-weekend as we croon away the Summer Scaries. What's better than sipping some Butter Chardonnay in its downtown Napa home? How about singin' and sippin' in costume?
Where: JaM Cellars Wine and Music Studio, downtown Napa
When: Saturday, October 30th, 8:00-11:00pm
RSVP: Reserve your tickets here! $10
Think you've got the best JaM costume? Maybe the Daphne from Bridgerton look? How about Olivia Rodrigo in "good 4 u"? We'll be the judge of that! There will be awards for the best costumes, so bring your A-game and you may bring home a prize…(bonus points if you match your karaoke song to your costume!)
Who said dressing up is just for kids? Not us! Show us what you've got! #JaMCellars
Can't get to Napa Valley? That's okay! Join the JaMClub and receive wines right to your door.
This is no trick, only a treat!
Crack open your very own stash of Butter Chardonnay, JaM Cabernet, Toast Sparkling or Sugar Sweet White, or our exclusive Napa-only collection, and crank up the volume on the Hallo-Wine JaMs poured by JaM Cellars on Spotify. You can create your very own spooky Napa Valley vibe (in true JaM Cellars style) right from the comfort of your own living room. Just make sure your glasses are full with plenty of wine to "cheers" with.
Check out this post for more ideas on celebrating Hallo-Wine at home and find your closest bottle of JaM Cellars wines!
Comments
Commenting has been turned off.