November 15, 2018 | JaM Cellars
We are Full of Butter-tude this Thanksgiving
We're kicking back and relaxing with a glass of creamilicious Butter and taking a moment to be thankful…grab a glass of gratitude, and join us!
BottleRock'd
Rocking out in our hometown with you, our JaMFans was THE best! Bruno, Billy and Snoop, we miss you. JaMPad, you totally rocked! We're still finding glitter in places we didn't know we had from partying at the CandyCabana, sipping on our delicious Frosé. Now it's just 190 days till we do it all over again May 24th-26th 2019! Follow us in social to win tickets!
JaMSessions
Over 100 super-talented artists have played the JaM Cellars wine and music studio this year—singing, dancing and sipping with no cover? LOVE! Take a look at our line up for the rest of the year, HERE!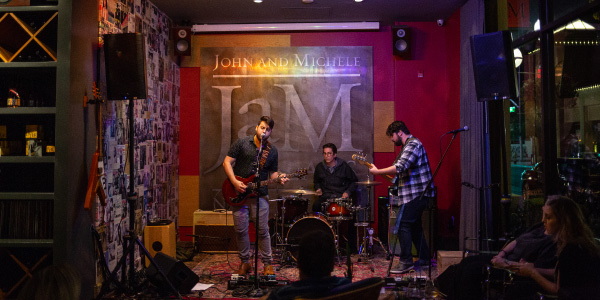 Candy Dry Rosé We Love You
We were tickled pink when we welcomed California Candy Dry Rosé to our JaMily and cracked open this pretty and delicious Dry Rosé with you. (We just love the screw cap!). California Candy sold out fast, but don't worry we're making more, much more next year. Stay tuned on Instagram to find out when…
#ButterCans
Have you checked out our cans? Adorable little 250mls of Buttery goodness that you can throw in your purse, beach bag, or wait for it…. your holiday stocking! We're dreaming of a yellow Christmas…
Candy Frosé
Not that we want to play favorites, but this may have been the brightest idea we had this whole year! As the colder weather hits, you can find us daydreaming and counting the days until we can Frosé-all-day again!
Chilling at Ohana Fest
What better way to end summer than partying at an idyllic Californian beach spot with Butter and Vedder. We're actually still floating on cloud-wine to Norah Jones' dulcet tones, humming to the Yeah Yeah Yeahs and air-guitaring to Beck. Huge love to the guys from Switchfoot for letting us hang out with them and catch their mid-air guitar riffs.
JaM Cab Love
Jim at Wine Enthusiast gave JaM some serious love with a 90 Pt score. Our JaMFans already know JaM is soft, dark and delicious and we're thrilled that Jim agrees. 90-point score from Wine Enthusiast. JaM Cab, we're raising a glass to you!
We've so much to be grateful for…but most of all, YOU. We love you JaMFans. Thank you for sipping and sharing our easy-to-love wines. We can't wait to share more amazing moments with you next year… so follow us, would ya?!
Comments
Commenting has been turned off.