April 22, 2022 | JaM Cellars
The Butter Guide to BottleRock 2022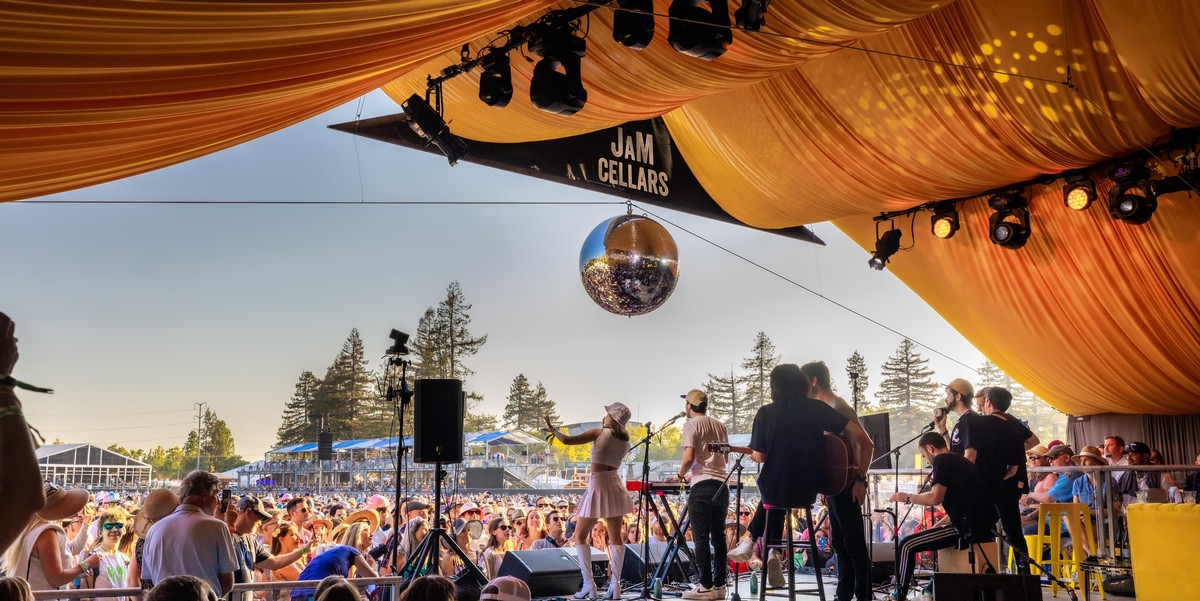 Get your first sip of summer with JaM Cellars at BottleRock Napa Valley 2022, named one of USA Today's "10 Best" music festivals.
With headliners like Metallica, P!nk, and Twenty One Pilots taking the JaM Cellars main stage—you know we're in for an insanely great weekend of music, awesome wines (Butter and JaM, DUH!), gourmet food, and plenty of gorgeous wine-country sunshine.
This year marks our 6th year as BottleRock's presenting sponsor, so it's safe to say we're all on cloud wine over here eagerly counting down the days until we can sip with YOU. If you don't have tickets yet, grab any remaining tickets here, OR!! Follow us on IG, FB & Twitter for ticket giveaways—keeping our fingers crossed you win!
Here are some things you should NOT miss at this year's BottleRock music festival:
Rock Out at the JaMPad
IT'S OFFICIAL. THE JaMPad LINEUP IS FINALLY HERE!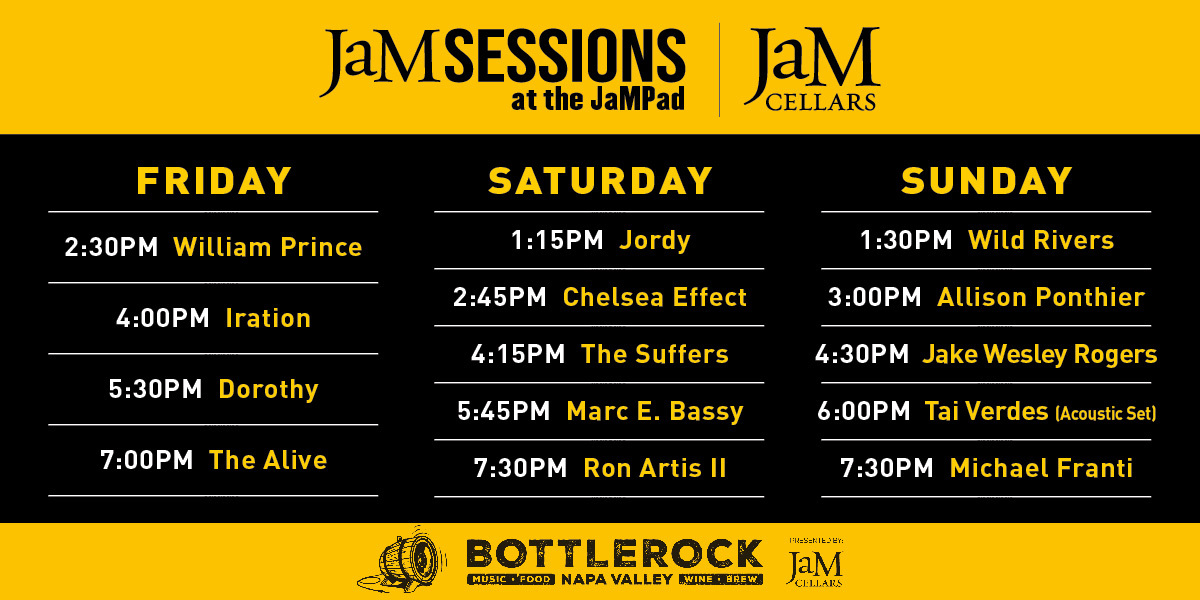 JaM with us at the festival's official 5th stage, the JaMPad—our very own acoustic stage and lounge at BottleRock Napa Valley!
For a more intimate, stripped-down musical experience, the JaMPad JaMSessions are THE place to experience BottleRock like the star you are. Don't miss awesome pop-up performances by artists including Tai Verdes (acoustic set), Chelsea Effect, Michael Franti and TONS more! Plus grab all your fav sips: Butter Chardonnay, JaM Cabernet, Toast Sparkling, and Sugar Sweet White.
Enjoy a refreshing glass of Butter as Jana, iHeartRadio host and music director, chats with musicians from the BottleRock lineup. They'll cover all things music, wine and what's going on in the artist's BottleRock'n'Roll life—followed by up-close and personal acoustic sets. Make sure to check us out for the wine and music time of your lives!
Can't make it to BottleRock IRL this year? Don't worry. Because we love you, we'll be LIVE-streaming select JaMSessions on @JaMCellars Facebook & YouTube! Be sure to follow us on FB, Insta, and Twitter for updates.
Past #JaMPad guests have included Dave Grohl, Elle King, Warren G, Big Freedia, Lawrence, The Struts, and so many more. Our JaMPad is located in the GA area, so yes: you can sip with us ;)
Sip & Repeat in the Butter Cab-ana
More Butter is better! After you've danced til you drop, regroup with your besties at the NEW Butter Cab-ana (see what we did there?).
Try NEW Butter Cab and Butter Bubbles while taking a rock-star selfie at the JaM Cellars' Butter Cab-ana photo booth overlooking the Verizon stage. The best bit?! Daily at 5pm head to the Butter Cab-ana for an in-person meet and greet with an upcoming artist.
Follow @JaMCellars on FB and IG to find out who you can hang with at the Butter Cab-ana and for all JaM's festival updates! We'll bring you closer to your fav artists with this state-of-the-art photo experience and awesome wines.
Sip, smile and share to be seen on the big screen! #JaMCellars #ButterCabana #JaMPad #ButterisBetter #BottleRock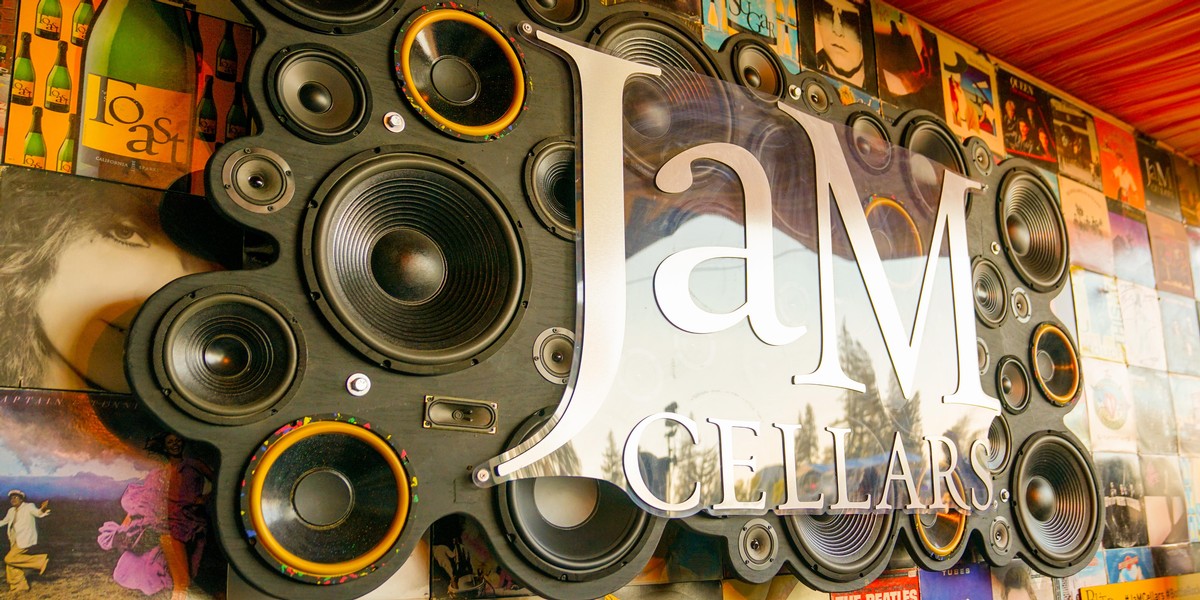 Find Your Favorite JaM Cellars Wines Throughout BottleRock
BottleRock is better with Butter! Here's your wine key to locating (and refilling!) your fav sips all weekend long:
► Concessions stands throughout the GA festival grounds: Butter Chardonnay and JaM Cabernet
► JaMPad and JaMPad VIP clubroom: Butter Chardonnay, JaM Cabernet, Toast Sparkling and Sugar Sweet White
► Butter Cab-ana: NEW Butter Cab and Butter Bubbles, alongside Butter Chardonnay and our JaM Cellars Napa Valley Sauvignon Blanc!
Pro Tip: Download the BottleRock Napa Valley app before you arrive so you don't miss any sips, or one second of your favorite JaMs!
Enter to Win SOLD OUT BottleRock 2022 Tickets
Looking for sold-out 3 Day GA passes? Fret not, ButterLovers and BottleRock-ettes! We have your back.
We're giving away BottleRock tickets through May, and you have the chance to win!! Make sure you're following us @JaMCellars on Facebook, Instagram, Twitter, and sign up for The Scoop so you don't miss your chance to enter.
As a safety net, you can also visit the official ticket exchange to place a reservation here.
Get Your Butter On, Everywhere!
Can't wait to Butter your BottleRock? Get on it! Check out our JaMCellars 2021 BottleRock festival highlights to get a sip of what's to come and stock up on the festival official sips, JaM Cellars headliners, for all your pregames and afterparties!
Butter never runs dry at the JaM Cellars Ballroom! If you need a place to keep the fun going after the last set, grab your tickets to the official BottleRock after-party shows! And don't forget, you can always party with us from your own backyard by streaming the LIVE JaMPad JaMSessions on @JaMCellars Facebook and Instagram.
Get BottleRockin' ahead of time with our "iHeart Summer Festival JaMs" poured by JaM Cellars while you wait.
Sip with you soon.
#JaMCellars #ButterCabana #JaMPad #ButterisBetter #BottleRock #JaMPad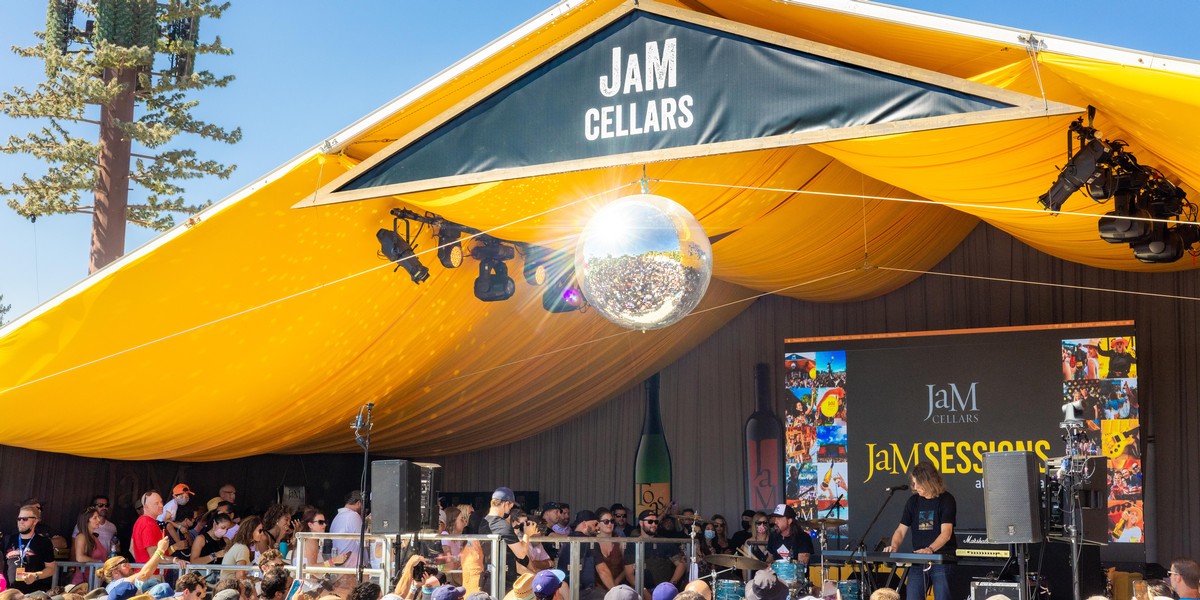 Comments
Commenting has been turned off.