November 15, 2018 | JaM Cellars
THE Definitive Guide To Winesgiving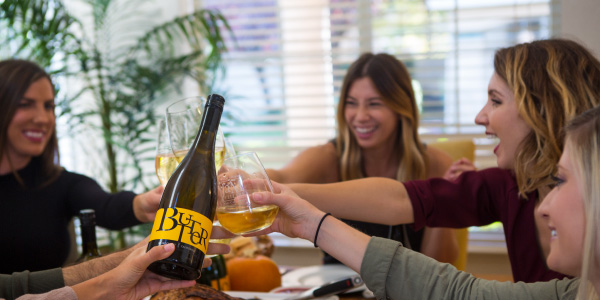 Play-by-play schedule to keep things simple!
Friends, family and everyone in between are coming together for never-ending feasts and fantastic wine. We love to keep it simple, so, don't sweat your hosting duties, we've got a play-by-play schedule for your most Butter-licious Winesgiving yet!
6pm Wednesday: Make sure you're stocked up with Butter, Candy, JaM and Toast and that they are iced down and ready for sipping! A little pre-sipping is never a bad idea, just to make sure they are the right temperature. Plus, you never know, you might just want to kick off your Thanksgiving Day-drinking bright and early… it IS a Holiday, right?
9 AM: Put on your best Winesgiving outfit, cover with an apron, and start the day off with a Toast-mosa while you prep the veggies. All work and no wine is NOT on the agenda today!
10AM: Someone arrives early, they always do. Don't let that throw you off—pour them a glass of Butter and put them to work—entertaining the kids with some fun, easy card games, or creating a Winesgiving playlist.
11:30AM: Ding-dong! You're the effortless hostess with the most-ess with a tray of Toast Sparkling at the ready, just don't try this.
12PM: The Macy's Day Parade can always be made better with a good ol' fashioned drinking game to keep the excitement going. We're loving Bustle's plan to take a drink every time someone is clearly lip-syncing.
1:30pm: The crew may be getting restless, so send them outside to burn off the pre-dinner energy. We're big fans of games you can play with one hand (so the other hand can hold a glass of Butter!) Prep your yard with giant lawn Jenga and some Corn Hole set ups!
3 PM: Your out-of-town cousins have rallied the Fryer cry. Grab a pack (or two) of ButterCans and take to the great outdoors (AKA, your backyard) to throw that bird in the fryer at least an hour before dinner.
4:30 PM: The feast is ON! As you're enjoying your hard work, don't even sweat all the dishes you'll be doing later. Our favorite holiday hack? You can rent ANYTHING these days, so take the clean-up out of the equation and rent your dishes and silverware and glasses for a hassle-free tidying! Don't forget your GoVino stash to avoid broken glassware as the day rolls on…
5:45PM: You may be thinking to yourself… "I can't eat another bite…oh look, pie!" It's ok. Pie gets the best of all of us. Serve up a piece of pie with an extra glass of Butter to wash it down! Or maybe swap pie for Candy?
7PM: Bask in your post-Turkey glow. Send everyone home with leftovers and settle in for a nice snuggle by the fire with the last of the JaM Cab after everyone leaves.
Comments
Commenting has been turned off.