July 12, 2018 | JaM Cellars
Late Summer JaMs at JaM Cellars Wine and Music Studio

Join us for rockin' summer nights in downtown Napa
Summer tunes rock the airwaves all season long at the JaM Cellars wine and music studio in downtown Napa. WIth a wide range of music, you might find your new favorite local band, or lounge with a nationally-touring artist. Find your vibe in our eclectic studio space. Make no mistake, our state-of-the-art sound system is ready to blow you away. Post up a selfie next to some vintage Rolling Stone magazine art and get ready for a night of high vibes and smooth wines.
The party kicks off every day at 4PM with a complimentary "toast with Toast" and our live entertainment gets going on Thursdays and Fridays. Belly up to our booths and bar counter, or sink into the leather couches for a luscious glass of something delicious to enjoy a night of live music with great friends.
The best part? There is never any cover charge, so plan to rock out with us all summer long. Check out our events page to see the latest upcoming artists schedules and we'll look forward to clinking glasses with you at the JaM Cellars Studio!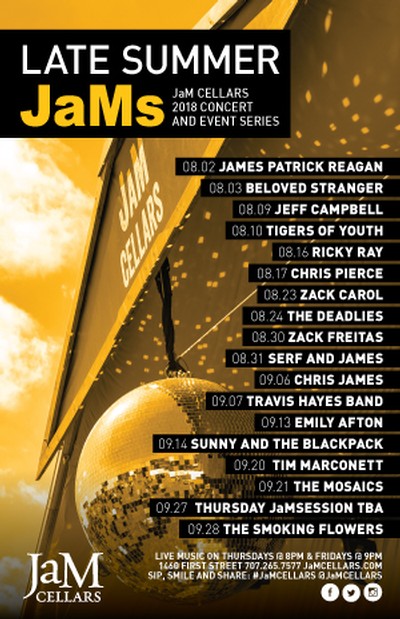 Comments
Commenting has been turned off.