March 24, 2021 | JaM Cellars
Sip'n'Play: A Wine and Music Sensory Experience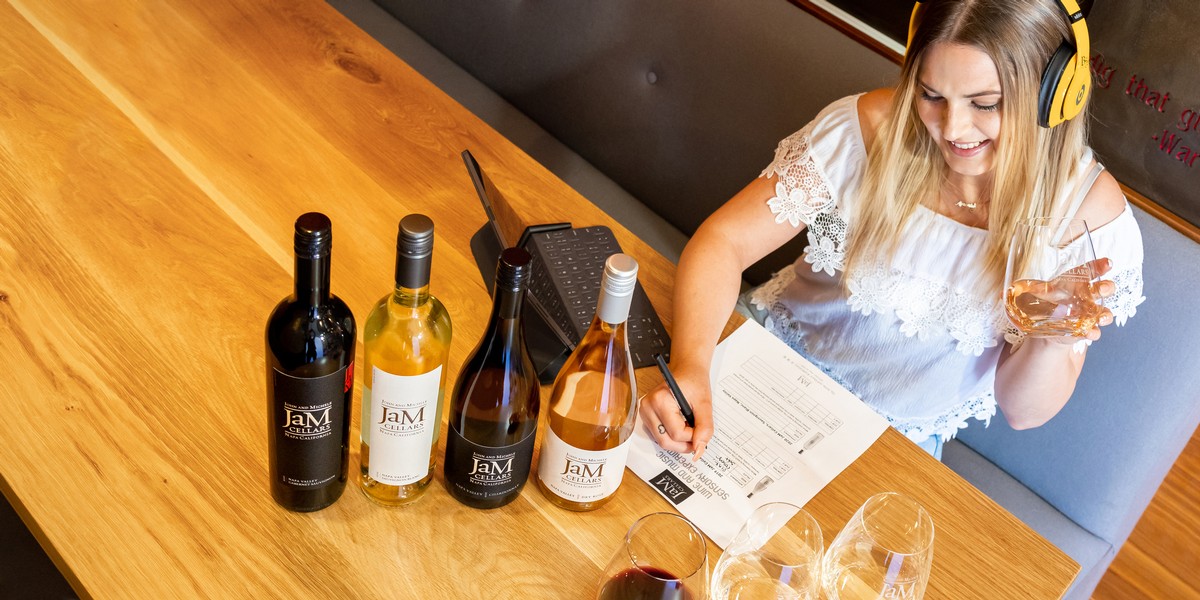 At JaM Cellars we believe music + wine = AWESOME!
With a name like JaM, how could we not? Maybe you've already hung out with us at BottleRock Napa Valley, tuned into LIVE JaMHappyHours, played Summer Festival JaMs radio poured by JaM Cellars, or sipped along to the JaMHappyHour podcast?
Well, now you're invited to turn up the volume on fun with our wine and music sensory experience, Sip'n'Play. Join us from the comfort of your sofa, purchase your bundle, invite your friends to Zoom in with us, and together we'll sip on four of our easy-to-love wines, play some tunes and enjoy seeing how the music makes us feel.
What you'll need:
Sip'n'Play wine pack and wine glass (1 pack of 4 wines, per location)

Sip'n'Play worksheet (provided ahead of showtime) and pencil, 1 per person

Screen and speakers (or headphones per person)

A love of great wine, music and adventure!
Sip'n'Play wine pack includes:
1 Bottle | 2019 California Candy Dry Rosé, Napa Valley
1 Bottle | 2020 JaM Cellars Sauvignon Blanc, Napa Valley (NEW!)
1 Bottle | 2019 Butter Chardonnay, Napa Valley
1 Bottle | 2018 JaM Cabernet Sauvignon, Napa Valley
Save the date and invite your friends!
See you on Zoom! Tuesday, April 27th 6pm-7:30pm PST (Only a few spots remaining, please book by March 29th!)

We'll shoot you a confirmation email with more details, including the Zoom info, within a week of purchasing your bundle!
We can't wait to Sip'n'Play with you!
Cheers,
JaM Cellars
Where the wines rock.
Comments
Commenting has been turned off.