September 21, 2017 | JaM Cellars
S'more Inspiration?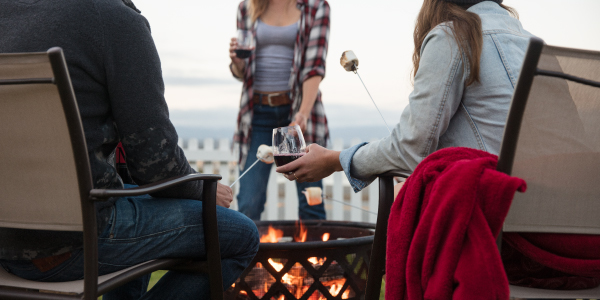 Sip 'n' Smore
We haven't met a human yet who doesn't love a good s'more… so it's a great excuse to gather up your friends around the firepit during the first few days of fall. Our sip 'n' smore list is a creative twist on the classic and (surprise!) each one is perfect with JaM wines. Get creative, get competitive and tell us your favorite…
Lemon Meringue S'mores
Use lemon curd instead of chocolate for a tangy taste explosion! (For extra decadence, add white chocolate...mmm.)
Wine: Butter Chardonnay
Fluffernutter S'mores
Use crunchy peanut butter instead of (or in addition to) the chocolate.
Wine: Butter Chardonnay or JaM Cab – you cannot go wrong with this one.
Nutella Banana S'mores
Swap in Nutella for the chocolate, and add a few pieces of sliced banana. It's amazing. Trust us!
Wine: Toast Sparkling
Bacon S'mores
Add cooked bacon and a dash of hot sauce. YASSS!
Wine: JaM Cab
Sophisticated S'more
Dark chocolate truffles, peppermint marshmallows, and organic graham crackers.
Wine: JaM Cab Napa, of course….
Coconut S'mores
Swap in coconut marshmallows, and use a snack size Mounds bar instead of plain chocolate. Bonus points if you use a split macaroon instead of the grahams!
Wine: Butter Chardonnay
Pumpkin S'mores
Add your favorite pumpkin butter (we love TJ's – only available in the fall!) to dark chocolate, cinnamon graham crackers, and classic toasted marshmallow.
Wine: JaM Cab
Cookie Monster S'mores
Swap in your favorite shortbread – Keebler Fudge Stripes, anyone? – or any kind of buttery cookie for the graham crackers.
Wine: Butter Chardonnay
Stuffed S'mores
Slip a Rolo or mini-Reese's (or Thin Mint or whatever tiny candy you have) into the middle of the marshmallow before you toast it. The ultimate in gooey goodness!
Wine: Butter, JaM or Toast, depending on the stuffing.
Happy Toasting (yep, we just can't help ourselves!)
Comments
Commenting has been turned off.