March 15, 2022 | Butter Chardonnay, How-To's, Playlists, Summer | JaM Cellars
Make Every Day Better with #Butter!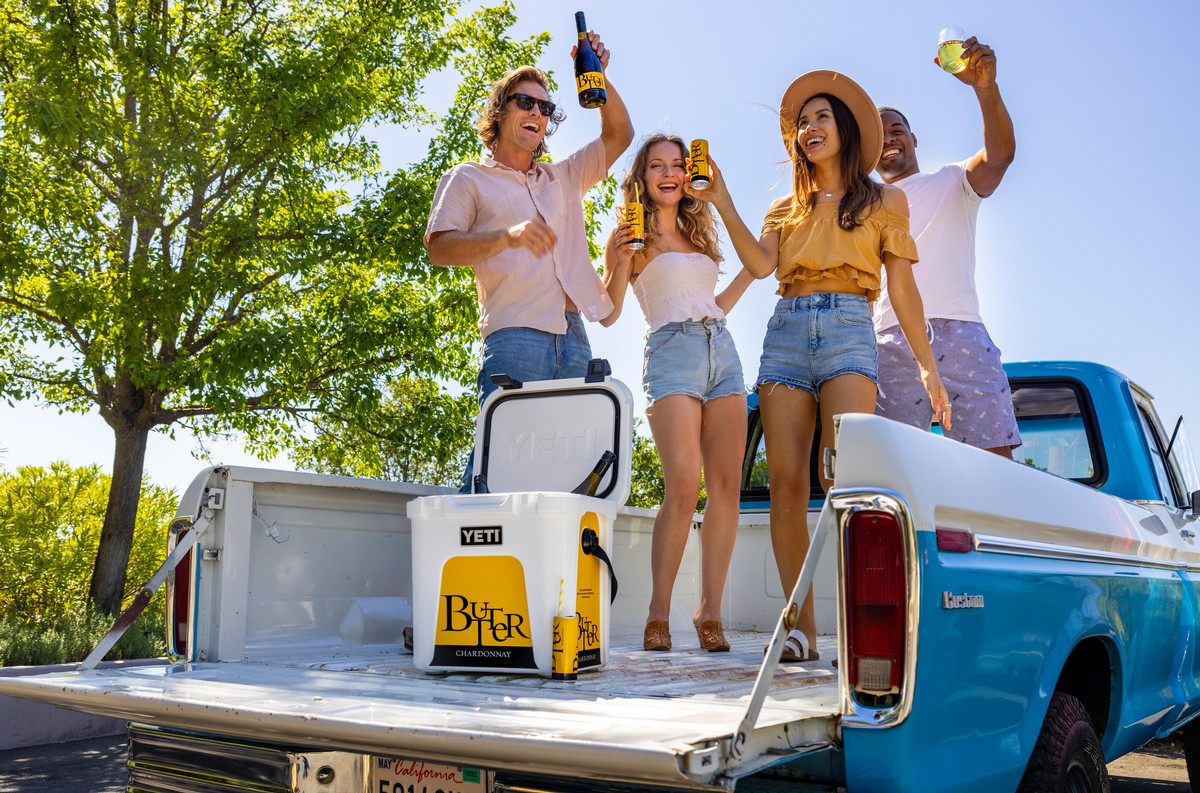 We don't know about you, but around here, everything's better with a little Butter. Because we're (albeit, self-proclaimed) experts at recognizing the finer things in life, we have a few ideas on how to make every day a little bit…well…Butter! And with ButterCans, NEW Butter Cab and NEW Butter Bubbles, there's so many options for a #ButterDay.
Sip'n'JaM!
Love a great soundtrack while you sip? JaM has got you with yummy playlists to go with your fav wines? From Yellow Happy Hour to Wine + Dine, we'll have you dancing on Cloud Wine in no time. Crank up your speakers, pop the chilled Butter Bubbles, and get your endorphins flowing with those sassy dance moves.
Pour & Prep
You can order takeout if that's what you're *really* craving, but making dinner at home has its advantages. Whether you're earning snaps for hosting a girl's night in? Getting cozy at home with your other half? Or treating yourself to your favorite comfort foods? There's nothing better than cracking open a ButterCan and pouring a glass while you prep. After all you are doing all the hard work, and you deserve a little Butter love.
Best tip ever? These beyond easy dinner at home ideas so you don't have to work too hard to earn that delicious pour…
Dive Into a Good Book (with a Splash!)
Hear us out: a good bottle of wine and a good book will make ANY day a little #butter.
Is there a pile of books you've been meaning to read? Or a few audiobooks that you just haven't gotten around to listening to? Well, the time is now! You've got one hand for wine and one for that hot new psych thriller, so find a little slice of sunshine, pour yourself a glass of Butter (and cozy up with a new book. Just a warning though: the time WILL fly by when you do this.
Here's your top reading & pouring list:
Plan a Vacay and Vacate
Maybe it's not in the budget right now, or maybe you don't have someone to watch your fur babies while you're away; either way, the whole process of planning a vacation can be so much fun. You can browse cool stays on Airbnb, scan for great deals on Domestic flights, and brush up on European backpacking tips from the comfort of your couch–glass of Butter in hand of course.
But whether you're sunning in Palm Springs or planning the next trip from your bed, our delicious and affordable wines are just a click away. Order up some wine with our fast and convenient delivery partners and have a #ButterDay without ever taking your cloud slides off.
Go for a Walk
Want to have a #ButterDay? Take a hike…literally.
Not only does this help boost your levels of vitamin D, but it also gets you out of your house and gives you some much-needed change of scenery. Grab a ButterCan (they're pocket-sized), and head outside. Plan ahead (check out this great list of hikes by state) and bonus points for getting your friends or family to join you. Just make sure they pack their own ButterCans!
Chill Out (And Chill Your #Bubbles!)
More now than ever before, it's important to find the time to just BE.
With all the distractions, notifications, and responsibilities that we face throughout the day, sometimes it's just nice to sit and think. Pour yourself a glass of Butter Bubbles, post up on the porch, sink into the couch or even slide into bed, and just focus on relaxing.
Make Every Day Better with Butter
No #Butter? No problem! We'll come to you.
With convenient delivery straight to your door, your day will be looking #Butter in 60 minutes or less. Now go on and have a delicious day today, JaM lovers!
Comments
Commenting has been turned off.