June 14, 2018 | JaM Cellars
Lessons From Dad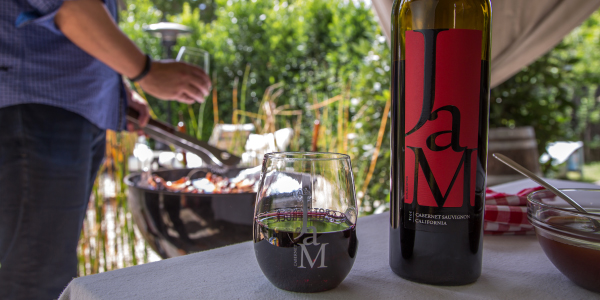 Create the kind of Father's Day that the Big Guy deserves!
Dad. He's taught us a lot over the years from riding bikes and catching a ball to how to be very prompt for Happy Hour. We've pulled out our favorite Dad-isms to inspire you to create the kind of Father's Day that the Big Guy deserves!
• Everything is better with Butter. And Bacon. Who says breakfast in bed is just for Mom? Kick off Father's Day by whipping up breakfast Dad-style. How about a batch of Bacon Pancakes washed down with a Toast-mosa? Now that's the way to start a day.
• You don't win friends with salad. Or as Dad called it, "rabbit food." The grill is a canvas, and Dad is the artist. It's best to go at it with two hands: One for the tongs, and the other for a glass of JaM Cabernet. Here's a killer collection of grilling recipes, sure to please anyone!
• Prior Planning Prevents…Dad always knows how to plan for the future. That's why he buys two cases of wine instead of one. Make sure you've got him well-stocked for an easy evening of belly laughs and eye-rolls at all the terrible "Dad Jokes." We'll trade our whine for a little wine with you this year, Pops!
• A little competition never hurt anyone. Your throwing arm is always better when it's a little Butter'd up. Break out the Cornhole this Father's Day and show Dad who's #1! Maybe let him win...just a little.
• Digital is for now, Vinyl is forever. Your Dad is a classic, and the real classics live on vinyl. Break out his vintage record collection and put on the tunes while you're chillin' with a bottle of JaM Cabernet to wrap up the night. You can never go wrong with a little Bowie or Dylan.
The best thing we've learned from our Dads this Father's Day? Life is Butter when you take a tip from Dad and embrace the art of relaxation. Cheers to all the Dads out there!
Comments
Commenting has been turned off.