November 15, 2018 | JaM Cellars
JaM in Napa & Napa in JaM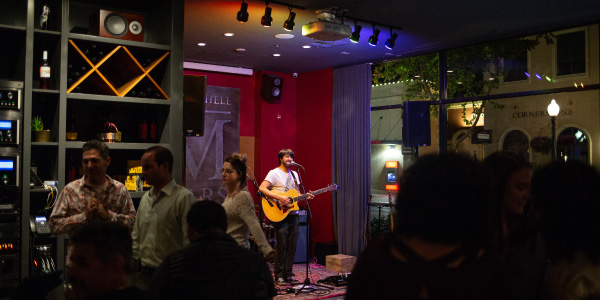 Believe Adam S. when he says "tucked away in Napa's Downtown area, JaM is a cute eclectic wine tasting room with a rock vibe." Heidi M. says we have a "cool vibe for the younger wino!" Jennifer H. and her pals came here "almost every night" they were in Napa. And Ben R. says we're "unique, funky and fun".
We know you love us on your sofa, at the kitchen table and out on the back deck, but there's something special about JaM Cellars in Napa that takes our easy-to-love wines to a whole other level. The home of Butter, JaM, Candy and Toast is also home to exclusive Napa-only wines. Love Butter California? Well, Butter Napa is from local vineyards here in world-famous wine country – a little bit richer and brighter. JaM Cab's Napa sibling is even more lush—with that great Napa Cab structure.
Owen, Madison, Eric, and Holianne make up our "super fun and friendly" team at the JaM Cellars wine and music studio (thanks Heidi and Nina J.). They love to host, help you discover your favorite JaM wines, and rock out with you at JaMSessions Thursdays through Saturday. Shalini G. says it best "Yes you really want to come here!" Thanks Shalini!
Can't wait for the next flight to the Bay Area to try JaM's Napa wines?
Call Owen and the team, or go online to grab a few bottles….the Holidays ARE coming!
Comments
Commenting has been turned off.