June 6, 2022 | #SundayFunday, Butter Chardonnay, JaM Cellars, Napa | JaM Cellars
How To Sunday Funday the Butter Way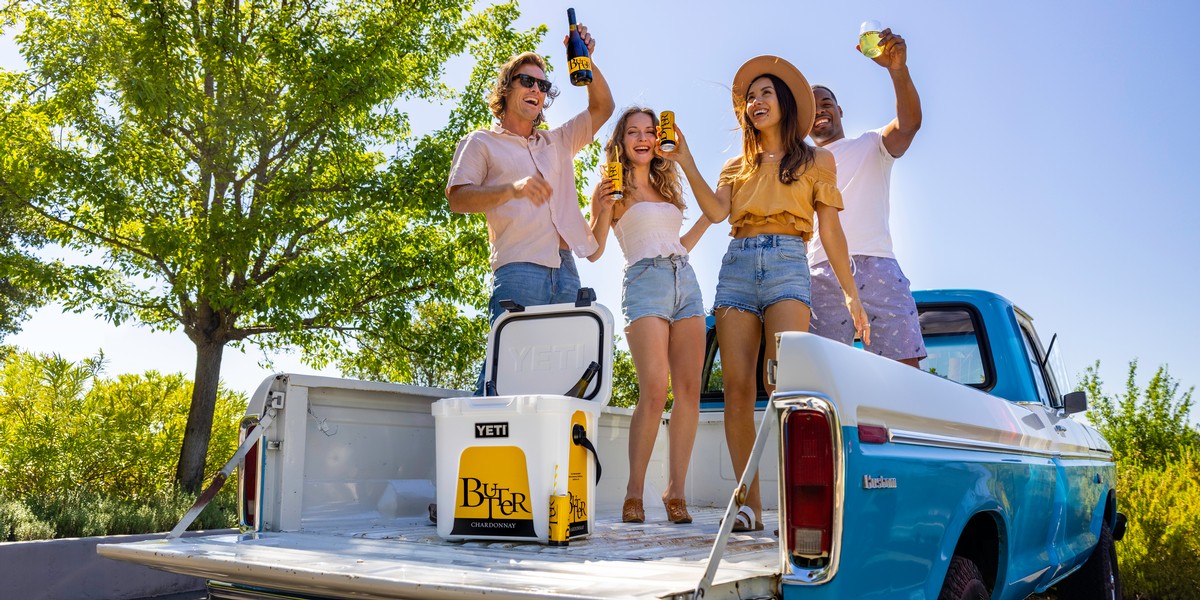 We're rolling into sunny summer weather. And. We. Are. Here. For. It! This weekend we'll be chillin' the wine and heatin' the grill, so we thought we'd share a few ways that our JaMily likes to celebrate summer #SundayFunday's in style.
Here are a few of our favorite ways to make your next #SundayFunday just a little bit…well, Butter!
Our Favorite Ways to Sunday Funday:
Start with Sunday Brunch
Whether it's breakfast-in-bed or brunch with your besties, no #SundayFunday is complete without an epic Sunday Brunch–even Butter if there's a sparkling glass of #ButterBubbles next to the heaping pile of waffles.
(Check out our list of JaM wines and brunch pairings for your #SundayFunday.)
​​Level-up your spring picnics, Sunday Funday brunches and everything in between by bringing along the perfect JaM wines–from delicious Butter Chardonnay to easy-to-love Butter Bubbles, there will be something for all your besties at the brunch table.
Play in the Sprinkler
Who said the backyard sprinkler was just for kids?? Certainly not us. Throw on your itsy bitsy teeny weeny yellow polka dot bikini, grab a bottle of delicious Butter Bubbles, crank the "Summer Festival JaM's" poured by JaMCellars on iHeart radio and go play in the sprinkler like the good old days.
Keep the Summer JaMs flowing for all your besties this #SundayFunday and have your summer sippers delivered straight to your door in 60 minutes or less, so you can spend more time sippin!
Host a Spa Day
Pick out your favorite buttery-yellow nail polish, pour yourself a glass of Butter Bubbles and spend a little time this #SundayFunday giving yourself the mani/pedi of your dreams. You can even invite a few gal pals over and give each other fun nail designs, and lather on the gooey face masks while sippin on your favorite JaM Cellars wines.
The creamy, Peachy-Queen Sugar-tini is perfect for a little royal treatment with the besties, so make sure to order a few extra bottles of Sugar Sweet White on Instacart, Amazon Fresh and Drizly before your Sunday Funday spa day.
We'd love to see your wine and face mask pics! Tag us @JaMCellars #JaMCellars so we can see how you #SundayFunday!
Wine & Yoga in the Park
Yoga class? Sorry, we thought you said "wine glass"...
Wine not nama-stay in the sun with your besties this Sunday Funday–weather permitting, of course. Grab your yoga mat and a delicious bottle of Butter as a reward after your final "ommm" and take some time this weekend to enjoy the finer things in life.
Organize a Movie Marathon
Wine down the perfect Sunday Funday with a cozy movie-and-wine marathon,
Let the gals take turns picking out their favorite movie, and scrounge up all the blankets and pillows you can find to make it uber-cozy. Spice up your movie marathon by adding a theme, like movies from the 80's, scary movies, wine-themed movies, cheesy rom-coms, or movies that start with a "B" (for Butter, duh).
Make sure to chill the #ButterCans ahead of time, and get creative with the popcorn selection. And yes: talking IS allowed in this theater.
#SundayFunday with JaM Cellars
Hopefully this list gets you pumped up for your next Sunday Funday extravaganza. But, if you're still looking for some more ideas, sign up for The Scoop and follow @JaMCellars on Instagram for all the #SundayFunday inspo you'll need.
And don't forget: life's too short to drink anything but Butter! We can make all your #SundayFundays a little bit Butter by delivering ice cold JaM Cellars wine straight to your door in under 60 minutes (or less!) with Instacart, Amazon Fresh and Drizly. Three cheers for easy + fun Sundays!
Make sure to snap some pics for the 'gram this Sunday Funday and share them with us over at @JaMCellars #JaMCellars #SundayFunday
Comments
Commenting has been turned off.