April 5, 2022 | Recipe | JaM Cellars
Easy Spring Dinners—Just add Butter!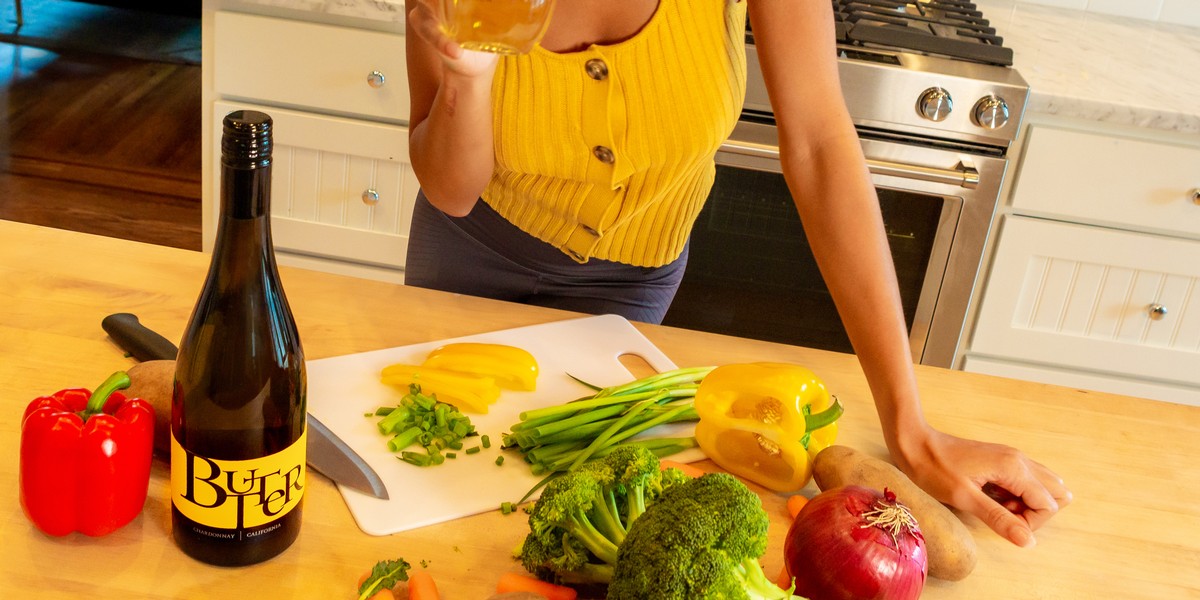 YAY! It's finally SPRING, and we're so excited to find new ways to fill our plates with the season's finest. To make your life a little Butter, we thought we'd share a week's worth of dinner ideas to take the guesswork out of cooking dinner–giving you even more time to wine! ;)
Here are 7 easy spring recipes that you can make in under an hour, so you can sip back and relax in the fresh spring air with your chilled bottle of Butter:
Pair with Butter Chardonnay
A delicious, easy dinner that also cleverly aligns with Meatless Monday, this fresh spring dish will have you looking at peas in a whole new way. It's also a brilliant idea to use lasagna noodles for something other than lasagna. Pro-tip: Be sure to use curly noodles so the edges catch all of the yummy pea pesto!
Pair with ButterCans
These tacos are simply amazing. They are not only colorful and delicious, but they also come together in just a few minutes. Celebrate the beginning of spring with a taco in one hand and a ButterCan in the other. Talk about a match made in heaven…
Pair with Butter Cab
One of the easiest salads to customize for picky eaters, this Apricot Salad with Arugula and Feta is packed with flavor thanks to the bright fruit, healthy nuts, and salty cheese, perf with a glass of cabernet. Smooth, rich Butter Cab will pair perfectly with the bites of feta and springy apricots, so make sure to stock up before dinner!
Pair with Sugar Sweet White
These juicy Mediterranean chicken patties have everything you want in one bite: protein, veggies, herbs…and they're easy to make. These chicken patties are hands down one of our favorite spring recipes. Enjoy with a glass (or two!) of Sugar Sweet White to really bring out the springtime flavors of these juicy chicken patties. And save a sip of Sugar Sweet White for afters!
Pair with Butter Chardonnay
Spring rolls might seem intimidating, but we promise they're not as scary as they seem! You've got this. If you've ever made a burrito before, you can definitely make spring rolls. Make sure to have a glass of Butter nearby to take a celebratory sip when you finish making your Springtime spring rolls!
Saturday: Take a Break ;)
Pair with Wine Delivery
It's Saturday, you've put your time in, now it's time to sip back and relax. Celebrate the beginning of spring by ordering your favorite takeout this Saturday night. Maybe those egg rolls you've been dreaming about? Or the BUTTER noodles from that Italian restaurant you love so much? (Mmmmmm, butter…)
While you're at it, don't forget the wine! Delivered to your door in 60 minutes or less, our delivery partners will be sure to put a little spring in your step this season.
Sunday: Breakfast for Dinner
Pair with Toast-mosas
What's better than a wine glass brimming with orange juice and its BFF Toast Sparkling?? A steaming pile of waffles, maybe? Or a breakfast charcuterie board? We'll let you be the judge of that one. All we know is Breakfast-for-dinner is one of the best ways to kick off your week, especially as the evenings get lighter!
Here is a list of brunch + wine pairings to give you a lil' inspiration. And hey, why not try them all? Tag us on the 'Gram when you do @JaMCellars.
Comments
Commenting has been turned off.