May 17, 2018 | JaM Cellars
Butter Get Packing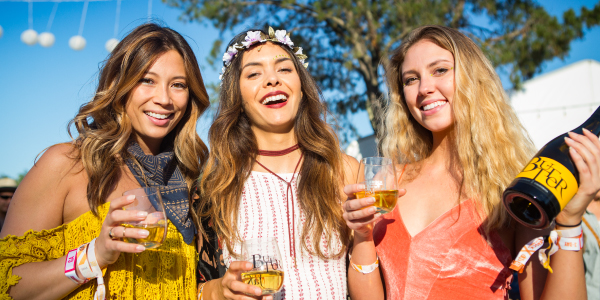 10 Things To Pack For BottleRock This Year
We can't wait to JaM with you in Napa next week. We've done this festival thing a few times, and we don't want you to forget a thing! Here are ten "must-haves" for an epic festival adventure.
1. Sunscreen. Pro-tip: Aerosol sunscreen is not allowed in to BottleRock (sorry, it's the rules!) so we recommend grabbing our favorite All-Good Organic Sunscreen Butter to save you from the burn.
2. Rockin' Outfits. Calling all our Festival fashionistas! We know you planned your outfits for the weekend to a tee. But if you get to town and feel like you could use a little extra shopping (who doesn't?) then check out some of Napa's local boutiques before the party begins to make sure you're coming to BottleRock in style.
3. Beach Blanket / towel. We know you are going to be dancing 'til you drop, so pack a Butter-yellow (so it's easy to find) beach blanket or towel to make sure you have a place to crash in the grass when it's time for a ButterBreak.
4. Stylish water bottle. When you're not sipping on a refreshing California Candy Frosé from the JaMPad, stay super hydrated with a reusable water bottle like this one.
5. The BottleRock App locked and loaded. Skip the wait on the download time and make sure you have the BottleRock App ready to go before you arrive. This way, you won't miss a thing and you'll know exactly when to stop by the JaMPad and JaM Cellars Stage to check out your favorite artists!
6. Go Cashless. You can use Apple Pay just about everywhere at the festival. Save some time, set it up pre-fest, and use the Fast Lines to skip the lines!
7. A little bit of shade. Trends come and go (we see you, flower crowns) but a chic hat will always have you covered. Cheeky baseball cap? Classic Fedora? Find your style and enjoy that extra bit of shade when you're JaMming out mid-day.
8. Ear plugs. After a long day listening to great tunes, you might need to give your ears a little break. Especially after you rocked out next to the speakers at that last JaMSession. Pack a pair of ear plugs to keep on hand, just in case. You don't have to sacrifice style (ever) so channel your inner Holly Golightly with ear plugs like these.
9. Fanny pack. Can we officially bring the fanny pack "back"? Forget dragging your purse all over the festival, keep your essentials in a super cute holographic fanny pack like this one. Why be boring when you can be unicorn colored?
10. Forget Something? Don't sweat it. BottleRock has three general stores on site to cover your slip-up. They'll have things like gum, lip balm, over-the-counter meds, yada yada yada. Thanks for thinking of everything, BottleRock!
We can't wait to raise a glass of Butter to another BottleRock season with you. We'll catch you at the JaMPad, or the JaM Cellars Tent!
Comments
Commenting has been turned off.