March 22, 2018 | JaM Cellars
Butter Get Fancy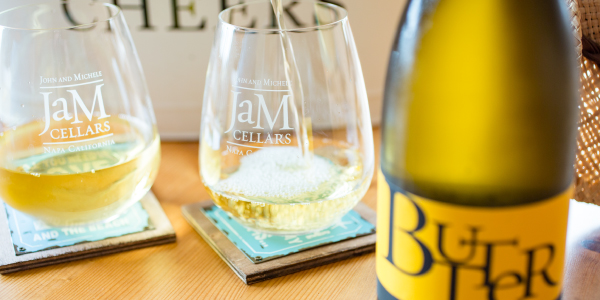 Pre-Release of Special Butter
Every now and again you need to pull out all the stops…and that's what we've done for our 2017 release of an extra-special Butter Chardonnay Napa. Made with lush, premium Napa Valley Chardonnay grapes from the world-renowned wine region we call home, we've brought ButterLovers a new depth of creamy deliciousness (think rich silky citrus crème brûlée in a glass!). We only made a very small amount of 2017 Butter Napa and as JaMClub members you have access to an exclusive pre-release online and direct from the JaM wine and music studio here in Napa.
Hate shipping fees? Us too. For a limited time, we're gonna include shipping for 6 bottles or more of your favorite JaM Cellars wines, at no additional cost. Need a little less? We'll ship 3-5 bottles for $20 flat. How's that sound? You have no excuses now! GET SHOPPING!
Want to enjoy Butter Napa right in Napa? Come to the JaM Cellars studio, our Spring music line-up is off the charts (and shhhh…just between us, we saved a little Butter Napa especially for BottleRock Napa Valley too!) Enter to win exclusive BottleRock tix and follow us on Facebook to check out winners posted every few weeks.
My you're looking fancy with that Butter Napa in your glass. Cheers to that…enjoy!
Comments
Commenting has been turned off.