April 25, 2019 | JaM Cellars
BottleRock Is Back & Butter Than Ever for 2019!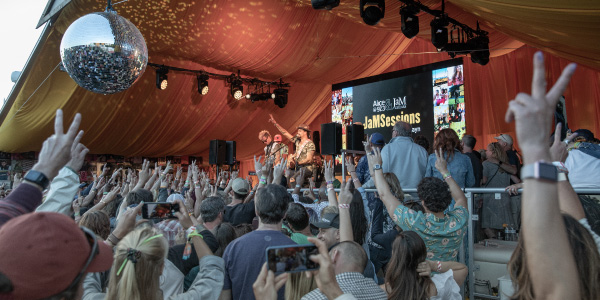 BottleRock is back and we can't wait to JaM with you at our favorite festival of the year! As Presenting Sponsor of BottleRock, we get to bring all of our thirst-quenching, easy-to-love wines to keep you rockin' out all weekend long. But it's not a party unless we go all-out. Here's what we have to look forward to for the summer's most rockin' 3 days…
Join us at the JaMPad
It's the place to be to get up close and personal with your favorite artists. DJ Jayn is taking a break from spinning the discs at Alice@97.3 to host our artists front and center at the JaMPad. When the music at the JaM Cellars Stage goes quiet, that's your cue to come hang out with us, last year we had The Struts, Bleachers, Micahel Franti, Lukas Nelson, and so many more amazing artists! Can. Not. Wait. To see who'll join us this year…tell us who you want to see here on our Facebook page! JaMPad line up coming soon - Stay tuned!
Glitter is for Rockstars
Keep Calm & Sip'n'Sparkle On, because we'll be rising and shining in the Candy Cabana with double the glitter gals from last year. Who wants to stand in line? Not us! Come get bedazzled and snap a selfie of you and your crew shining bright like a diamond and riding Cali the unicorn…yep you read that right.
Frosé All Day
We couldn't get enough Candy Frosé last year…so of course we had to bring it back again! Grab a GoVino full of our delicious, crush-worthy California Candy Dry Frosé to quench your thirst after JaM'ming all day long to your favorite tunes!
In the meantime, follow us on Facebook and Instagram as we get festival-ready and stay tuned for any last-minute ticket-giveaways! Ready for a little pre-game? Head for your local grocery store and pick up a four-pack of Butter or CandyCans, crank up the tunes in your backyard, and let your imagination take you to the beautiful Napa Valley on a warm Memorial Day Weekend! We. Can't. Wait!
Comments
Commenting has been turned off.