May 17, 2018 | JaM Cellars
Best JaM Day at BottleRock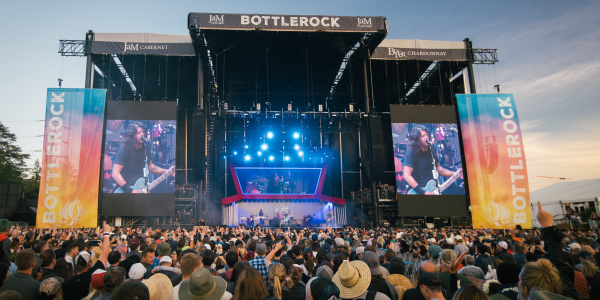 The Perfect JaM Day Starts at the JaMPad
It's another amazing year to be at BottleRock, and you know JaM Cellars has got you covered in General Admission. Whether you've got a full weekend pass or will be joining just for one day, we've pulled out all the stops…
Close your eyes and imagine your best day at BottleRock. Are you up close with Michael Franti? Are you having visions of being in the middle of a glitter tornado? Rocking out to your favorite song from Halsey? Enjoying the most delicious glass of Frosé you've ever had? It's not a dream, because we've turned that into a reality! If you are spending just one day with us at BottleRock, here are all the things that you MUST do to get the ultimate JaM festival experience:
Download the official BottleRock Napa Valley app and pick out your "must see" bands. Set a little schedule for yourself and don't miss a thing!
Get your first sip of summer at The JaMPad, opposite of the JaM Cellars Stage. Come by early, grab a glass of Butter and get ready to boogie with DJ Josh Duke's Dance Party! It's the perfect warm up to your day.
Primp your inner Rock Goddess with some sweet merch before all the best styles sell out.
Get glittered! Make your way over at the JaM Cellars Candy Cabana at the Midway Green to hang with Cali the Candy Unicorn, get sparkled by our amazing glitter artists, and take your chances in on our very Instagram-able glitter tornado! You have to see it to believe it!
JaMSessions with Jayn from Alice Radio start early afternoon up until the headliners play. We'll be getting up close and personal with artists like Michael Franti, The Struts, Alice Merton and more.
Candy Frosé all day! Grab a frosty glass of Frosé to celebrate with us as we show off our latest release of California Candy Rosé in frozen form, only available at the JaMPad and the JaM Cellars Candy Cabana.
When you need to refuel after busting out all those dance moves, head over to the Culinary Garden for bite to eat. (it's cheat day, remember?) Treat yourself to lunch, a glass of JaM Cabernet and check out all the shenanigans on the Culinary Stage!
Ready to dance again? Head over to the silent disco, put on a pair of headphones and shake that boo-tay! Don't feel like dancing? Go over there anyway and watch… it's hilarious.
As the night starts to wind down, grab a glass of Butter and get settled in for your favorite headliner. Getting there early pays off to get as close as possible! Need some space? Come back to the JaMPad and watch the live stream on our 14 foot video wall!
Ready to keep going? Head downtown and get your tickets to one of the official BottleRock AfterShows at the JaMCellars Ballroom.
Whether it's just for the day, or all weekend long, we can't wait to JaM out with you for another year of rockin' music and great wine.
Comments
Commenting has been turned off.