November 1, 2021 | JaM Cellars
A Full Play-by-Play of #Butter Winesgiving Activities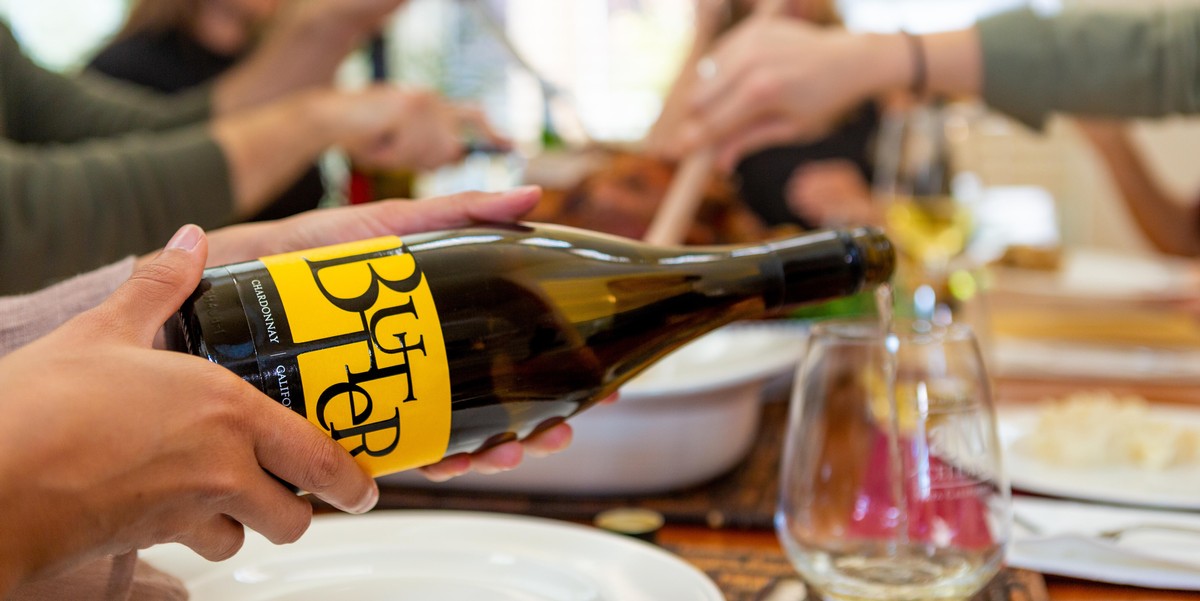 We've got Turkey on the brain these days, and can't stop dreaming about Thanksgiving day! How does 12 miraculous hours of non-stop Winesgiving action sound? We thought so. Let's Eat Turkey. Drink Butter. And Repeat!
Avoid the "Now what?" question, and keep the party flowing all day with our Winesgiving play-by-play!
Here is the Perfect Play-by-Play for Winesgiving:

7:00 am:
Rise and Shine, sleeping beauty! You have a date with a turkey that you need to prep for! Lace up those sneakers and hit the Turkey Trot 5K, or throw on your coziest slippers and make the trek to your living room…you could also just hit snooze and enjoy some extra zzzz's… no judgement here–Winesgiving is the ultimate holiday!
8:00 am:
Take a moment to enjoy the calm before the storm with a celebratory Toast-mosa in the shower (yes, you definitely need one of these) and get the party going with our Thanksgiving JaMs playlist on Spotify.
You'd #Butter believe there's bonus points for singing in the shower!
8:30 am:
Did you make your coffee? Swipe on some mascara? Great, now you're ready to get your wine on! Keep sipping on our Thanksgiving music playlist, and maybe try your hand at one of these easy wine syrups you can make ahead of time to spruce-up your Butter Chardonnay or Toast Sparkling!
9:00 am:
Time to hit pause on the Spotify JaMs for now, so you can queue up the Macy's Thanksgiving Parade on TV. And yes: it's still happening! Even though it'll look a little different this year, the show must go on! Take the parade to another level and make a drinking game out of it, courtesy of Chicago Now.
Pour a round of Toast-mosas for the parade viewers, because the fun is just getting started.
10:00 am:
As your guests begin to arrive, keep everyone out from under your apron with an activity station that has one of these 8 games that everyone can enjoy. Queue up these cute conversation cards, or give everyone the Gobble-Gobble-Giggles when the kids DIY their own Thanksgiving Joke Teller.
Don't forget to have your #Butter chilled and ready to serve!
11:00 am:
Does basting your turkey every 30 minutes stress you out? Fear not! @tastemade has a little cheesecloth trick that will prevent you from having to babysit your bird all day. Pop your turkey in the oven and take a well-deserved breather with a glass of Butter… you've earned it.
12:00 pm:
Now that you're well into the Winesgiving groove, crank the tunes back up and get everyone moving before the big feast. Loosen up everyone's dancing shoes with some Tik Tok moves and realize that yes, you actually do have moves like Jagger. Or, if you'd rather sip back and relax, turn on our Sweater Weather JaMs and crack open a good book and a bottle of JaM Cabernet.
1:00 pm:
Can't travel this year? Catch up with your loved ones and friends near and far with a Zoom party! Remember these moments forever, and capture a "family photo" of everyone "cheers-ing" onscreen with their favorite JaM Cellars wine. If you have the time to plan ahead, order some wine online for your long-distance "guests" and surprise them with a box of WInesgiving cheer!
2:00 pm:
Check on your turkey using this helpful Turkey Roasting Guide. Nope, it's still not ready. That's fine, good things take time! Refill your Butter and splash a little into the pan. Your bird loves #Butter, too!
3:00 pm:
Mmm-mmm it's starting to smell sooooo good, which means it's ALMOST dinner time! Keep everyone's hunger at bay for just a little longer with a few of these easy Thanksgiving apps, and pass out the ButterCans you've left chilling in the fridge. (Brace yourself for some grateful hugs.)
4:00 pm:
A true Winesgiving feast needs the perfect setting, and just because your Turkey is the star of the show, that doesn't mean your table can't shine as well! If you want to create a truly festive table, show off your design skills with an easy, beautiful tablescape. Pop open a bottle of Toast and get inspired by these Thanksgiving table decor ideas from ElleDecor.
4:30 pm:
*Drum roll please* It's the moment we have all been waiting for: DINNER IS SERVED! Ring your dinner gong and gather 'round the table. You've made it to the finish line, and everyone is ready to feast.
Throw on the Wine + Dine Dinner Party Mix and dig in! Happy Winesgiving!
6:00 pm:
Now it's your time to relax, because everyone who didn't cook is now in charge of doing the dishes. Ahhh, life is good. Settle back and watch the clean-up, wine glass in hand.
7:30 pm
Once dinner is cleaned up and the Toast Sparkling has been served, it's time to bring out the pie. Here are some mini Thanksgiving treats if you're too stuffed for a slice of pumpkin pie.
8:00 pm:
Winesgiving dinner might be winding down, but don't let the fun stop now! There is still plenty of fun to be had. Here are some after-dinner Winesgiving ideas:
Classic Board Games, like Uno or Scrabble
Conversation cards
9:00 pm
Even though it's not the turkey making you sleepy, all the excitement from the day is probably setting in. Before you catch the gravy train to Snoozetown, end the night with a family movie that you can share with anyone, near or far. Host a Virtual Watch Party on your platform of choice and set up a Disney+ Watch Group for the kids with any of the best movies to watch right now.
And, just like that, another year of food, wine, and gratitude is under our belt. Our Winesgiving play-by-play is the perfect way to celebrate Turkey day, and we couldn't do it without a little bit of #Butter.
Don't miss the JaMs: sign up to get The Scoop, and follow us on Instagram, Facebook, YouTube, and Twitter so you can prepare for Winesgiving like a pro!
Comments
Commenting has been turned off.