September 21, 2017 | JaM Cellars
We've Fallen for Fall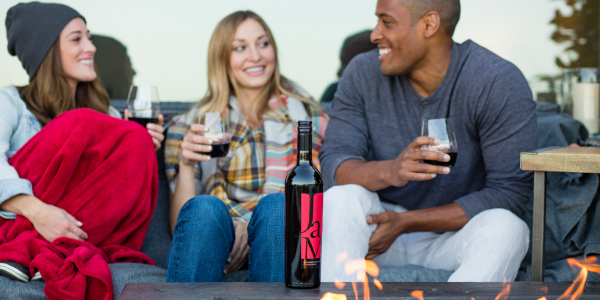 6 Reasons We've Fallen for Fall
It's hard to let go of summer, but we've cried enough and we're ready to move on. And fall was right there waiting for us, cozy sweaters, fuzzy socks, pumpkin spice and all! Thank you fall for….
1. EARLY NIGHTS. Shorter days means wine o'clock comes earlier! When it's really too cold for JaMming by the firepit, there's Netflix's fall lineup to pair with your favorite easy-to-love wine. Did someone say Jaws marathon??
2. RED, RED WINE. Come home to a dark, rich and luscious glass of JaM Cab to wine down on a cool autumn night. Light the fire and a couple candles and sink into the sofa…you deserve it.
3. FOOTBALL. Whether you're a die-hard fan or only there for the food, football season brings everyone together. The conversations in the kitchen are just as much fun as the ones by the TV! We can't decide whether we like Butter or JaM better with this three-cheese queso dip…guess we'll have to try them both again. Hate it when that happens!
4. SIP' N' SMORE. S'mores are one of those things that help ease you out of summer into fall. Check out our nine favorite recipes for s'more inspiration this fall. We tested them and each one tastes just a little better with JaM wines, of course.
5. COZY SWEATERS AND FUZZY SOCKS. They take up so much room in the drawer, but we forgive them every year...there's nothing like warm, soft and indulgently fluffy sweaters and socks on a chilly day. We're jonesing after these Butter Slippers....and this cabernet sweater
6. FALL COLORS. The leaves will be changing color in the vineyards soon, blazing with JaM red and Butter yellow—the ultimate fall colors! Grab a few bottles and head somewhere to take in the fall foliage this year. Here are a bunch of great online tools and even an app to plan your leaf peeping. It's an excellent excuse for a visit to JaM Cellars and taste our new JaM Cab Napa.
Comments
Commenting has been turned off.