January 22, 2020 | JaM Cellars
2020 We're Seeing Clearly Now…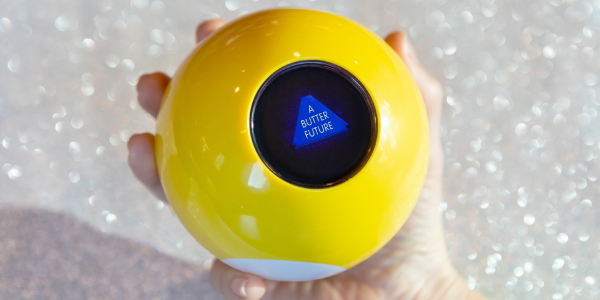 Butter Chardonnay's 10th birthday!
They say 2020 is the year of clear vision, it's also Butter Chardonnay's 10th birthday! So, in honor of both occasions, before we look forward, let's look back…
JaM Cellars began in 2008. You all know that JaM is actually short for John and Michele (if you haven't met them yet, check out their story) and JaM Cab was their first wine at JaM Cellars. They loved the fun and simplicity of calling their rich, berry-licious red wine, "JaM".
The story goes that John and Michele were pouring JaM Cab with friends when someone said, "Hey, you guys should make a white wine and call it Butter!" Wait, what?!...So, in 2010 John and Michele made their first 1,000 cases of Butter Chardonnay. It sold out FAST that very first year, then the second, and then the third in a row. Today, Butter Chardonnay is the #2 selling chardonnay (over $12) across America! (Check out our nifty wine finder to find your closest store)
Turns out that when you love what you do, have fun doing it, and do it to the best of your ability—you can make something incredible, that people love.
The future is hard to tell, but here's what we're anticipating the next 10 years to bring…
• More music. We love to JaM—whether that's in our hometown of Napa at the JaM Cellars wine and music studio, or at BottleRock Napa Valley music festival, or finding other ways to give you a soundtrack to sip to; we're all-in on the music front. Stay tuned-in with our friends at iHeart Radio to hear JaM Cellars radio coming soon, and follow us on social (Insta, FB, Twitter) to hear about other gigs and festivals we'll be sponsoring.
• More time with friends. JaM Cellars' reason for being is to have great tasting, reasonably priced wines that you're excited to open with friends on any day of the week. Whether it's the weekend, #WineWednesday, #WineOclock, or simply any day of the week with a "y" in it, we want to you spend it with those that we love. Cheers to that!
• More wine. Turns out that wine isn't just for glasses and dinner tables. ButterCans and CandyCans are our pick on the go, by the pool, camping, tailgating and all the other "…ings" you can dream up. The cans have been a big hit in grocery and convenience stores, and for the ultimate convenience Alexa can now tell you where to find them—just ask her to "Open JaM Cellars" (find out more here). We'll be getting out and about and bringing our wine with us, no excuses.
Thanks for being a JaMFan in the last decade and this decade to come, we can't wait to wine with you in 2020!
Comments
Commenting has been turned off.