September 21, 2017 | JaM Cellars
JaM's in Napa and now Napa's in JaM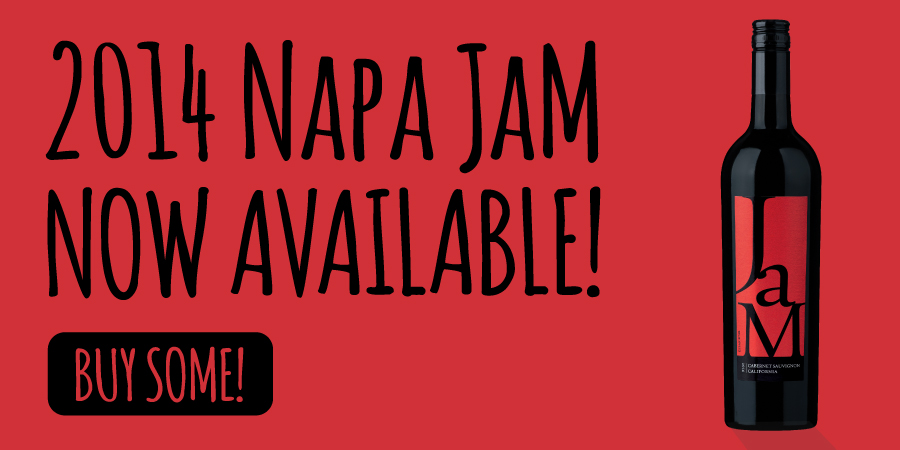 A tiny release of our favorite JaM Cab, now with Napa grapes
We know you love us for our easy-to-love, everyday Californian wines, but just now and again we like to out-do ourselves. Grapes from across our beautiful state of Califonia will always be JaM's first love, but for the next two weeks only, we're releasing a tiny amount of JaM made with world-famous Napa Valley grapes to everyone on our mailing list. It's a treat that feels like getting a second birthday half way through the year!
JaM Cellars started in Napa and hopefully you've visited our wine and music studio here in downtown Napa? (If you haven't, please come soon!) Our little microclimate here in Napa makes for extra-complex, structured and rich wines, but of course we kept the big, bold, berry flavors that you love.
There's not much JaM Cab Napa to go around and you won't see it on store shelves. This wine is typically just for members of MyJaMClub and guests at JaM Cellars Napa, but for the next two weeks we're making this tiny amount available to all JaMFans! Plus we'll save a little bit for you to enjoy at BottleRock Napa Valley presented by JaM Cellars. Well, it'd be such a shame not to!
Can't wait til BottleRock? Come to Napa for a JaMSession at our studio and taste this wine as part of our Napa flight for the full JaM Napa experience. Or make your own JaM night at home—grab a bottle or two of JaM Napa here and tune into to JaM Cellars on Spotify.
As always, you save at least 33% on ground shipping when you purchase any case of JaM wines, so go ahead and stock up before time runs out!
Comments
Commenting has been turned off.