July 7, 2022 | JaM Cellars
#ButterDays of Summer: 5 Ways to Chill Down with JaM Cellars Wine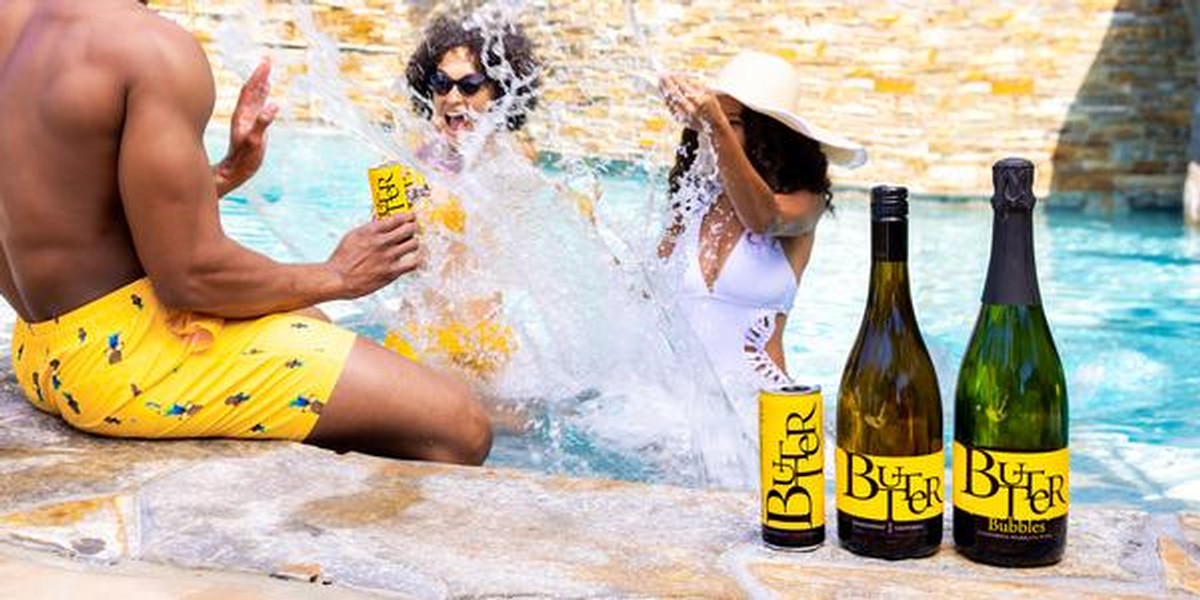 Summer is FINALLY here, and things are heating up! To help you babes chill down and enjoy every, single, icy-cold sip, we've rounded up 5 ways to chill with JaM Cellars. So, forget the dog days, grab some ice, and sip into the #ButterDays.
Thankfully, your faves pair perfectly with whatever fun-in-the-sun plans you have on your itinerary–whether you're headed to the beach or partaking in a boozy brunch with your besties.
Plan a Beach Day
Summer beach days are the best days. The warm sun, the salty air, the chilled wines…what's not to love?
But, don't feel like you're obligated to stick with the tradition of warm beer on the beach just because that's what you'll usually find in the sandy cooler. Next time you're planning a beach day, be the star of the show and surprise your beach babes with a few cases of delicious, ice-cold ButterCans! With all the wine you can carry and all the JaM's you'll need via the "Summer Festival JaM's" playlist on iHeartRadio, you're going to be one heck of a chiller this summer.
Don't have access to the beach? That's okay…a girl can dream! Lay out your favorite beach towel, throw a few cases of ButterCans on ice, turn up your speakers and you're ready to go–without even leaving your house! Bonus points if the sun is out!
Chill Out Poolside
Did you know that you can also plan a wine-by-the-pool day even if you don't have a pool of your own? With apps like Swimply and Airbnb, finding a pool to sip beside for the day is almost as easy as opening a bottle of Butter!
Or, if you're in the mood to stay local, you could call up one of your neighbors/friends to see if they'll let you use their pool in exchange for a case of cold ButterCans. Pro tip: Make sure to bring plenty for yourself! Butter makes for the ultimate creami-licious poolside sip, so make sure to stock up on your fave JaM Cellars wine before you sink into your floatie for the day.
Brunch with the Besties
Another way to keep your chill game strong throughout the summer? Find a shady patio to post up and get brunching with your besties! No matter the season, brunch is an important constant in our lives (just like your ever faithful, always there for you, Butter wines). But thanks to sweet summertime, we have a few extra reasons to sip back and enjoy a lil' boozy brunch with the gal pals more often.
Whether you're picnicking at a local park or taking advantage of your friend's rooftop patio, as long as you've got a healthy supply of bagels and a few bottles of Butter Bubbles (obvi), the world is your (brunch) oyster!
Check out these can't-miss brunch and JaM Cellars wine pairings for your next gal pal get-together this summer.
Host a S'mores Night
Think back to the last time you had a homemade s'more. The crispy-sweet crunch of the graham cracker. The salty crumbs mingled with the sticky marshmallow...mmm mmm mmmmmmm. Really, the only thing that could make that experience better would be washing down your warm, gooey creation with a tall glass of lucious, berry-licious JaM Cab!
This summer, gather the girls and host a s'mores night like you've never had before. Say goodbye to the s'mores of your childhood, and take it a step further! From peanut butter cups to grilled bananas, there's a delicious s'mores recipe for everyone. Here are some of the s'mores and JaM Cellars wine pairings were obsessing over:
- Reese's Peanut Butter S'mores + JaM Cab
- Pretzel S'mores Bites + Butter Bubbles
- Oatmeal chocolate chip and graham cracker cookie s'mores + ButterCans
- Bourbon Bacon S'mores + Butter Cab
- Grilled Banana S'mores + Butter Bubbles
Party on the Front Porch
Remember the Good Ol' Days? The warm summer nights where all your closest neighbors somehow ended up on your porch, and everyone was laughing, drinking and hanging out? Recreate some of your favorite childhood memories by inviting your friends and neighbors over for a summer night porch hang/Butter bash.
Turn your porch into the ultimate place-to-be by hanging up some fun outdoor lights, setting up a large cooler for your fave lineup of JaM Cellars wines, and cranking up the tunes. Our "Summer Festival JaM's" playlist on iHeartRadio is just the thing you'll be looking for as the sun goes down and the party turns up.
Want all this summertime goodness and more delivered straight to your inbox? (No spam, we promise!) Sign up to Get the Scoop! or follow us on Facebook, Instagram, Twitter @JaMCellars #JaMCellars.
Comments
Commenting has been turned off.