February 19, 2020 | JaM Cellars
"Hey Alexa, Open JaM Cellars!"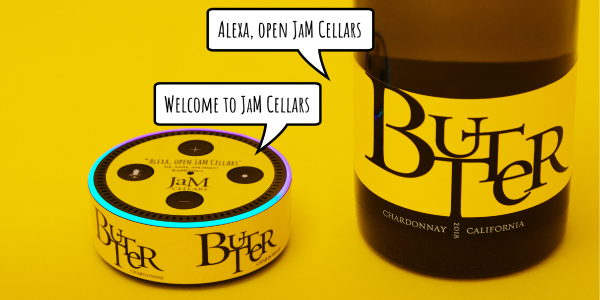 Want more ways to enjoy JaM Cellars at home? Just ask Alexa!
Almost as easy as pouring a fresh glass of #ButterChardonnay, the new JaM Cellars skill will give you the down-low on our wines and where to get them. Plus, hear the JaM Cellars story straight from John and Michele, themselves, after all they ARE the "J" and "M" in JaM.
Sip while you listen. We think the wines taste even Butter with…
- A personal wine-troduction (see what we did there?) from John and Michele. They dish up all things amazing about Butter, Candy Dry Rosé, Toast Sparkling and JaM Cab
- Our voice activated WineFinder. Find your nearest Butter re-stock location and get it texted straight to your phone. WHAAAT?!
- And, who doesn't want more Butter? Get a coupon for $2 off your next couple bottles of Butter. Still have a pal who hasn't tried us yet? Get one for you and one for her! (subject to state regulations)
Who needs to log laptop time when our Alexa skill has everything you need in one easy-peasy voice command? So, crack open a bottle of #ButterChardonnay and ask Alexa to "Open JaM Cellars!!", she might even pour you a glass 😉💛🍷.
Tag or DM us @JaMCellars to let us know how you like the new JaM Alexa skill, and what else you'd like to hear on there next!
Comments
Commenting has been turned off.