January 30, 2021 | JaM Cellars
Sunshine Journaling: Commit to a ButterYear in 2021!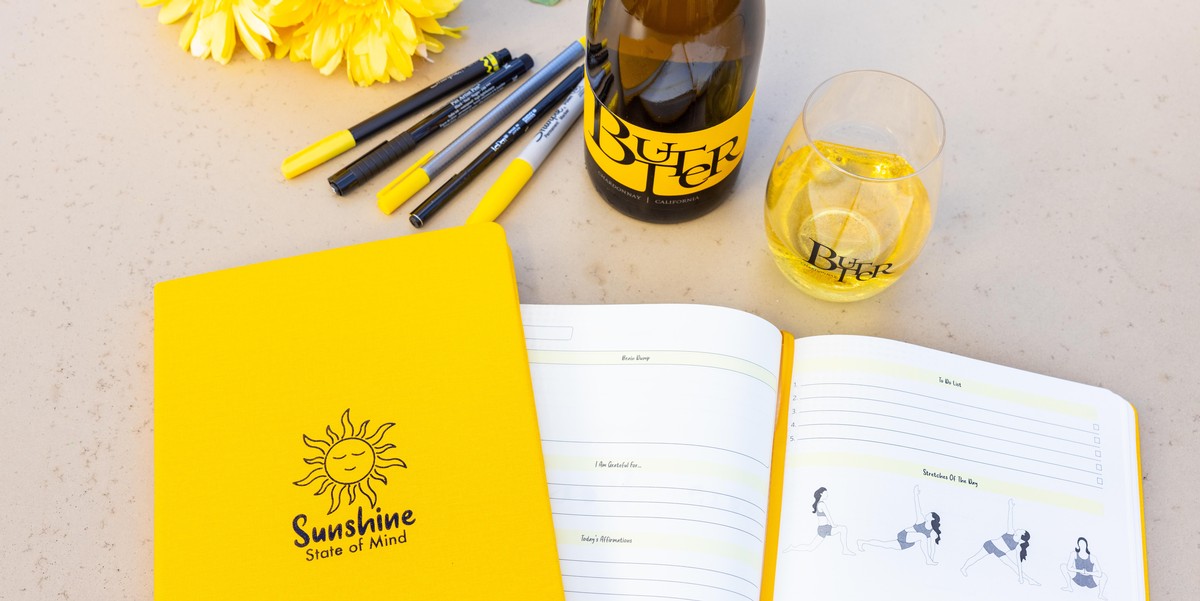 2021 is in full swing,
but wait…not much has really changed yet?! Except perhaps for our outlook? Hope for a return to normal life, live music, sharing wine with others, and top of our wishlist—a weekend wine and music festival. Do you hear us BottleRock Napa Valley? We're coming for you in 2021!
But while those things are still a few months away we're getting in some happiness practice right now…with the Sunshine Journal "the complete and effective tool to happiness". Bold, bright and in our favorite color, Butter yellow, it's helping us make time for happy right now. And we have one to send to a lucky Butter lover… it could be YOU!
Imagine this: you're pouring a glass of cool, creamy-licious glass of Butter Chardonnay, uncapping one of your favorite new pens, and committing to happiness with your very own Sunshine Journal. Here's how…
Practice makes perfect—well actually in terms of happiness, almost perfect will do. The two Alices show you the way in their hit book "Be Happy Without Being Perfect" because YOU=ENOUGH. Journal for 5 mins or 55 mins, it doesn't matter. What's important is regular time for you to self-reflect, be grateful and chart a path to your goals and dreams.

Writing down your goals and dreams is the best way of making them a reality, and you happier!

Studies have shown that simply by feeling gratitude (and receiving it!) you begin to see things from a more positive perspective immediately. Can you think of one thing right this moment that you are grateful for? We'll go first….it starts with a "B" and ends with "UTTER!"
So treat yourself to a glass of wine and a quiet room. If you think better with a little background soundtrack, we've got the perfect one for you right here "Summer Festival JaMs, poured by JaM Cellars" and dream of your happy place—sunshine, music and Butter Chardonnay.
Ready to win a Sunshine Journal of your own? Make sure you're following JaM Cellars on Facebook and Instagram, and stay tuned on social for your chance to win - coming up very soon!
Spending some time journaling with a glass of Butter by your side? Snap a pic and tag @JaMCellars on Facebook or Instagram so we can share those happy vibes with the whole JaMily.
Comments
Commenting has been turned off.